THE UNITED UKRAINIAN BALLET
INITIATIVE
On 24 February 2022, Russia invaded Ukraine. Two ballet dancers, Stanislav Olshanskyi and Alexis Tuttunique, at the time on tour with Dutch prima ballerina Igone de Jongh, were caught off guard by the war and, with the help of Igone and Matthijs Bongertman (Senf Theaterpartners), sought refuge in dance city The Hague.
They called on other dance professionals from Ukraine to join them. Over 60 professionals from different companies have since found each other in The Hague. Together, they formed a new company: The United Ukrainian Ballet Company (UUBC) and in recent months have worked with leading choreographers such as Jiří Kylián and Alexei Ratmansky on various productions. Igone de Jongh is the artistic director of the company which is supported by the United Ukrainian Ballet Foundation (UUBF).
The dancers receive shelter, care and housing in the former The Hague Conservatory, courtesy of the municipality of The Hague and the Salvation Army. The dancers of The United Ukrainian Ballet Company stay and practice in a separate wing of the former Conservatory. This is called the Dutch Centre for Ukrainian Dancers (DCUD). Separate studios are set up here to train and rehearse for performances. Daily training at the centre takes place under the direction of Rinus Sprong and The Dutch Don't Dance Division.
MISSION OF THE FOUNDATION

#1 KEEP DANCING
To provide the dancers a safe environment in which they can continue their daily lives, continue to train, work on their careers and receive mental and physical support.

#2 KEEP THE UKRAINIAN CULTURE ALIVE
To preserve the Ukrainian dance culture of both creators and productions. Stagnation due to the war could mean an end to a generation of dancers, an end to Ukraine's special dance and ballet culture with a long tradition that goes back to the ancient culture of folk dancing. We need to keep dancing and continue to make productions.

#3 KEEP THE WAR ON TOP OF MIND
To promote awareness regarding the war, so that we won't forget the atrocities that are going on in Ukraine and that the war remains top of mind among the general public. The United Ukrainian Ballet Foundation is a temporary project, until the situation is normalised and the dancers can return to Ukraine. Until then, we will have to support Ukrainian dancers and offer a specially developed program – a mix of classic and modern dance and ballet productions – for as long as necessary.
THE BOARD OF
THE UNITED UKRAINIAN BALLET
Robert Serry (Chairman)
Jan Zoet (Secretary)
Bart Meuter (Treasurer)
Bessel Kok
Lilian Conçalves – Ho Kang You
We couldn't do without the support of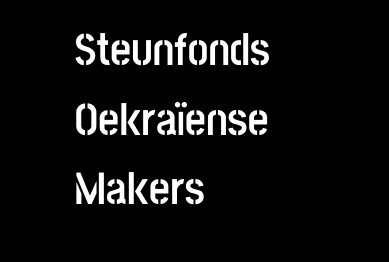 And other Kickstart Cultuurfonds Participating financiers
Igone de Jongh
Matthijs Bongertman
Rinus Sprong
Alexei Ratmansky
Jiří Kylián (Kylián Foundation)
Sol León
Paul Lightfoot

Carmen Thomas (Kylián Foundation)
Gertie van Meijel (City of The Hague)
Stefan Stolk
Taras Onishchenko
BOARD
Robert Serry (voorzitter)
Bart Meuter (penningmeester)
Jan Zoet (secretaris)
Lilian Gonçalves - Ho Kang You
Bessel Kok
Mayor Jan van Zanen (The Hague)
Arjen Kapteijns (Ministry of Social Affairs)
Ambassador Maksym Kononeko (Ukrainian Ambassy)
Yuliia Malynovska (Ukrainian Ambassy)
Henk van der Meulen (Royal Conservatoire The Hague)
Kiki Rosingh (Prins Bernard Cultuurfonds)
J.S.P. Hortulanus - de Mik (Hortulanus Holding)
Jan van Oosten (Salvation Army)
Martijn de Graaf (Salvation Army)
Marc Verberg (Salvation Army)
Wilco Wolven (Salvation Army)
Gaby Bosma (Salvation Army)
René Mendel (Interakt)
Eerde Hovinga (Blueyard)
Geert Boogaard (Blueyard)
Derk van der Kemp (Blueyard)
Annemieke van der Togt (Togtstrip)

Altin Kaftira
Johan Molenaar
Mark Engelen
DONATIONS
The United Ukrainian Ballet Foundation is qualified as a Dutch ANBI and cultural ANBI (Algemeen Nut Beogende Instelling)
For donations please contact:
info@unitedukrainianballet.com